Posted on
By Luana Zablan of Lehua Jewelers - PC: Kauanoe Ewaliko of Lehua Jewelers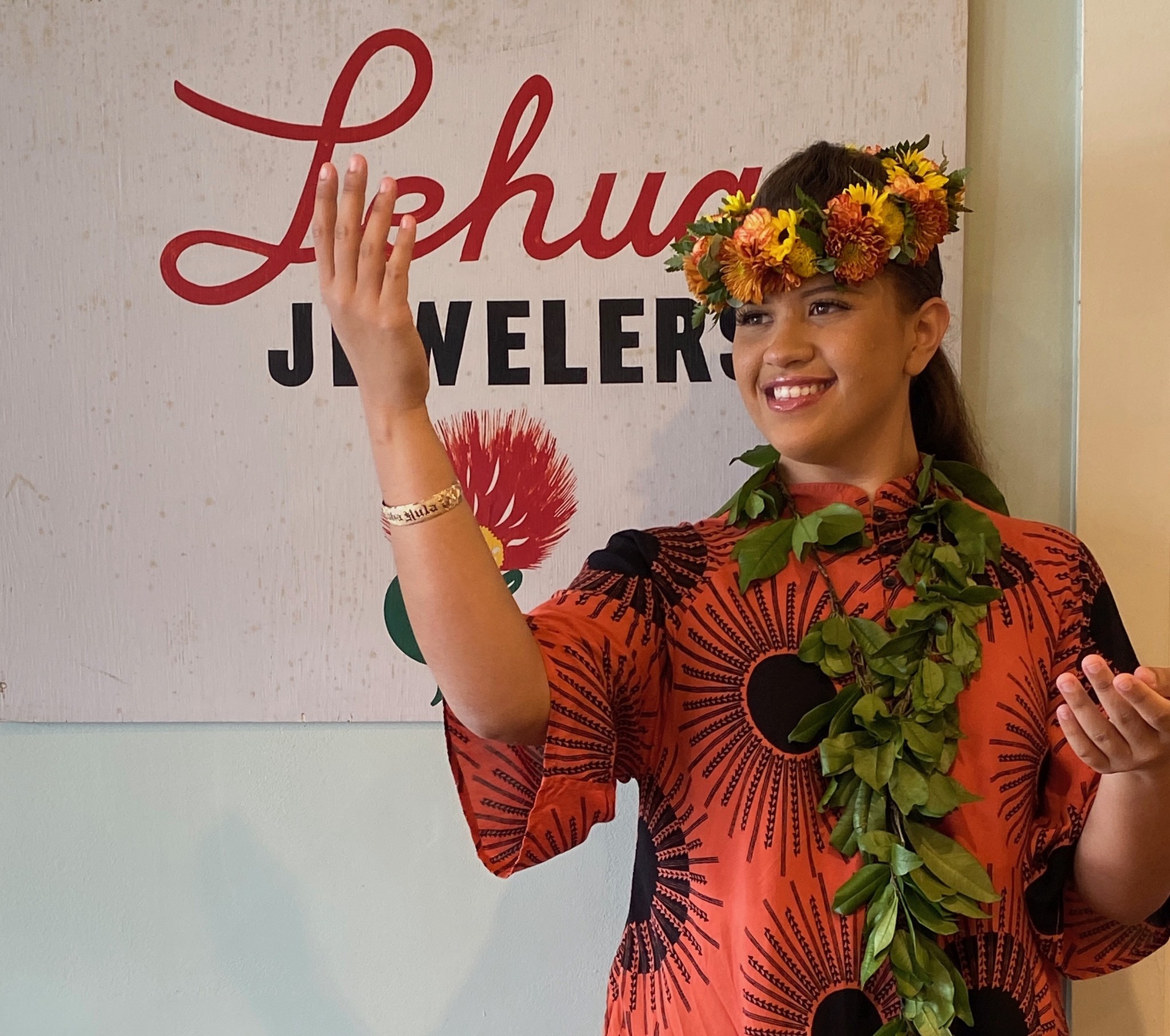 Preview: WAIMEA — 2022 Merrie Monarch Miss Aloha Hula Piʻikea Kekīhenelehuawewehiʻikekauʻōnohi Lopes of Hālau Ka Lā 'Ōnohi Mai O Ha'eha', honors the staff of Lehua Jewelers with a special oli and hula.
We are pleased to present this year's winning Miss Aloha Hula Bracelet!
Miss Aloha Hula Bracelets are custom designed, handcrafted, and unique to each Miss Aloha Hula winner by Lehua Jewelers. The design is inspired by the Ipu Hula implements and incorporated Lehua Jewelers' signature Lehua Blossom design. Both motifs are significant to the Hawaiian culture. The Ipu Hula are hula implements used in ancient times to provide the fundamental rhythm that accompanies Hawaiian chanters and dancers. The Lehua Blossom is not only revered in Hula, but it also plays a vital role in the delicate ecosystem that is only found in Hawaiʻi. 
Today at Lehua Jewelers, we were honored with an amazing performance by Miss Aloha Hula 2022, Piʻikea Lopes, and her mother and Kumu Hula Tracie Lopes. At the entrance of the store, they together chant in honor of King Kamehameha I and his birthplace in Kohala. Piʻikea that follows with a hula of Hole Waimea, which is a tale of the Kīpuʻupuʻu, a band of runners whose name is taken from the cold wind of Mauna Kea that blows at Waimea on Moku O Keawe (Big Island). 
Mahalo nui iā Piʻikea lāua ʻo Tracie no ko ʻolua leo a me ka hula