Posted on
By Luana Zablan of Lehua Jewelers, PC: Bruce Omori, Merrie Monarch Festival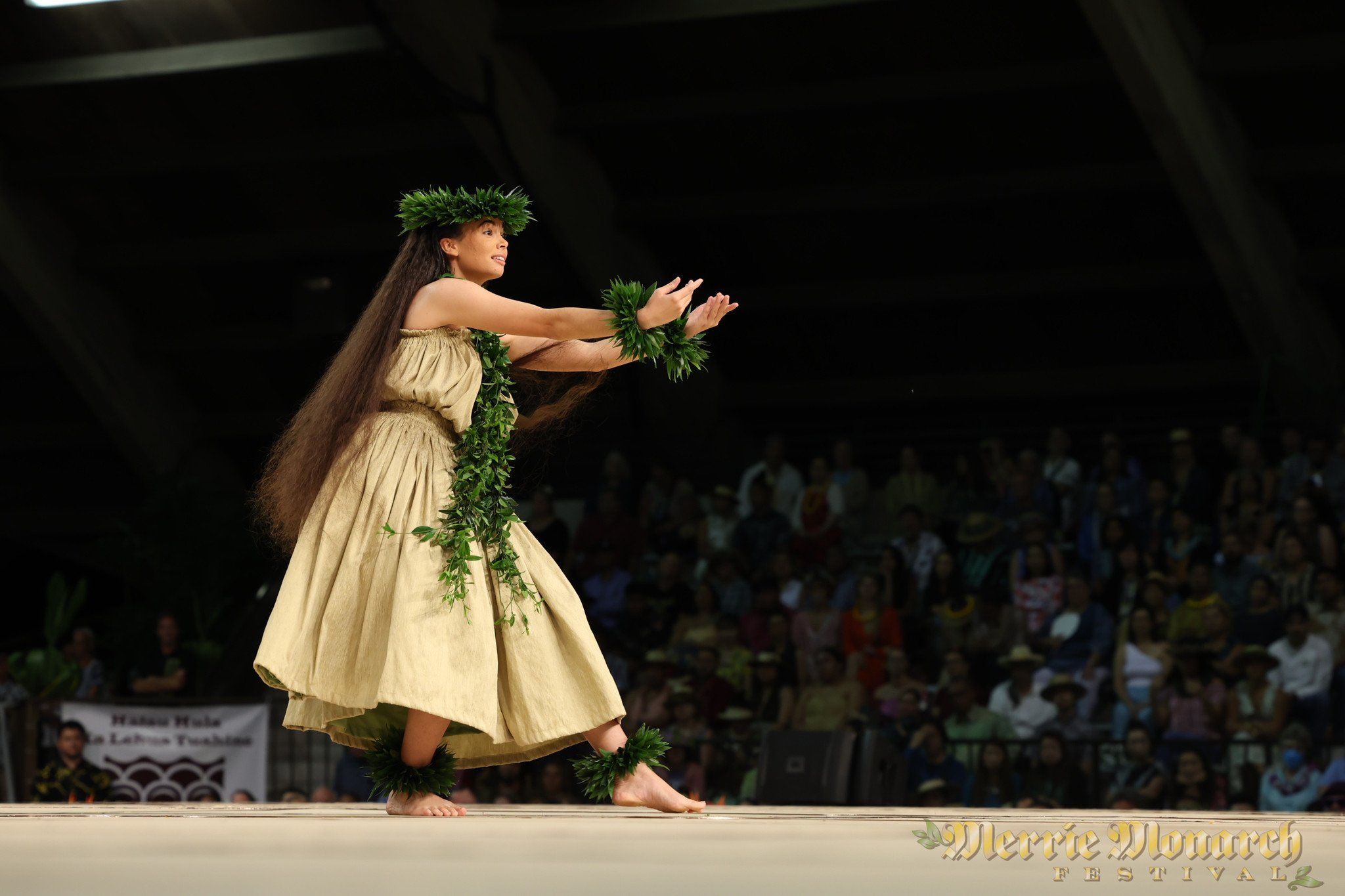 Agnes Renee Leihiwahiwaikapolionāmakua Thronas Brown took home the crown of Miss Aloha Hula 2023. She is the third Miss Aloha Hula in a row to be awarded from Ka Lā 'Ōnohi Mai O Ha'eha'e, under the direction of nā kumu hula; Tracie & Keawe Lopes.
Hulō Agnes Renee Leihiwahiwaikapolionāmakua Thronas Brown!
Out of 12 outstanding contestants, Agnes earns the title of Miss Aloha Hula 2023. Since she was 9 years old, young Agnes has been dancing the hula with the guidance and care of her kumus, Tracie & Keawe Lopes. After years of honing her skills to perform on the grand stage of hula, her efforts have finally paid off. Now, Agnes is a part of the great legacy of Miss Aloha Hula title holders, being the third winner in a row to win from Ka Lā 'Ōnohi Mai O Ha'eha'e. Wow! Such an honor! Not only is she a dedicated student, but Agnes also has a background education, following the footsteps of her ʻōhana. With a degree in Elementary Education from Chaminade University, starting earlier in the year, Agnes has been teaching her own class at her Alma Mater at Sacred Hearts Academy. Such grand achievements for an amazing wahine!
For 10 years, Lehua Jewelers has been a part of the legacy of awarding Miss Aloha Hula winners with a custom-made 14K 15mm hand-engraved Hawaiian Heirloom bracelet for the past nine years. We all anticipate what this year's Miss Aloha Hula bracelet will look like.
Check out Agnesʻs performances at the Merrie Monarch Festival 
This hula ʻōlapa is from the beloved Hula Master Henry Moʻikehaokahiki Pā and honors Kaumualiʻi, the last ruling ali'i nui of Kauaʻi and Niʻihau. This is one of the three hula presented in 1947 at the first Aloha Week festivities held in Ala Moana Park. It was performed by Uncle Henry's aunt, renowned hula exponent Katie Nakaula.